Task 1. Be Thrifty And Use Things You Already Have Or Can Easily Acquire
Think of these questions about all the different aspects of the film, sets, costumes, makeup, props:
Is there a way that you could possibly make the costumes? 
Is there stuff in your trash-to-treasure bin that you can use? 
What can you use for sets? Curtains? Antique furniture?
Is there anything in your closet that might work with a little embellishing? 
Can you easily acquire any items from your friends? (Make a list of things people might have and send it out to see if you can acquire the things you need.)
You will be surprised how many set imperfections don't show in film. That being said, you can use a lot of old looking things that may look dingy or chintzy in person but won't necessarily look that way in the film. 
About costumes: when you cast, you can totally ask your cast member if they can bring something simple they probably own (white button-up shirt, black church shoes, black church pants, etc.)
For Outlaws of Ravenhurst we were very fortunate with how much we were able to make do.
The Gordon kilts were pretty much the only costumes we bought. We sourced most of the costumes from our dress-up box, All Saints' Day costumes, and wardrobes.
All the baseball pants were donated by one mom. Lady Margaret's wedding dress was lent to us by another one of the moms. The boys all had to bring their own button-up shirts and the moms were generally pretty good at making sure they were ironed.
We bought fifty yards of the same green-colored fabric and made a lot of the costumes (including a few kilts!). We still have an abundance of unused fabric from the same bolt.
One of the girls had a whole bunch of make-up palettes and different foundation colors which we experimented with for the best make-up look.
Task 1 Checklist:
Check these places for sets, props and costumes before shopping:
1. Your dress-up clothes box
2. Around your house
3. Your Halloween costumes
4. Your friends
A Word On Spending While Raising Money
Something to consider is that you don't have to meet your whole project budget goal before spending the funds. 
Outlaws of Ravenhurst cost around $5,000 to make and Max and Carlota cost around $3,000, but we never had that money just sitting in the bank. We were spending and receiving money throughout the entire production. 
That being said, spending before meeting the budget amount does risk scrambling for money at the end of the project because there is no knowing if you keep making money as you make the project. Don't panic, just be consistent with your fundraising efforts. 
Keep close track of your spending so that you don't spend over-budget in different areas and so you know how much your movie costs to make when you've completed the project. 
Task 2. Hit The Thrift Stores
Thrift store shopping is a great way to get things for moviemaking because not only are things priced well, but you can usually find unique items. On the other side of the coin, it is really hit and miss with thrift stores. They either have it or they don't.
Put together a list of things you may find at the thrift store. 
Know what days your thrift store has their sales and plan a shopping day (or days)! This is a fun experience, don't feel rushed and like you are wasting time. (How much time do you spend shopping on the amazon site?) Get a group of people you like hanging out with and make a day of it.
Peruse and look at everything keeping your dream film in mind. If something will work but looks really dumb and cheap, you don't have to buy it. Thrift shops are especially great for specialty items like:
Wedding or formal dresses (these are super easy to dress up for 19th century films)
Crinoline slips (we've used these in many films and let people borrow them for plays)
Jewelry
Props
Halloween-time is the best time to shop for costumes. Most important in all your thrift store adventures, have fun!
You can even thrift shop online. Mercari and Ebay is well stocked with strange things you might find useful as props and costumes.
Task 2 Checklist:
1. Make a list of items you may find at a thrift store.
2. Pick the perfect day to shop
3. Find a few friends and go shopping!
Task 3. Shop Online And At Your Local Stores
Now comes the time you have probably been itching to get to: shopping for new items online and at your local stores.
Depending on your funds and what your budget allows for, you can be as frugal or as lavish as you want. What do you want to invest in most for this film?
For your first film, you will probably want to invest in equipment, especially sound equipment. 
Two things that I would say are filmmaking essentials are the Rode mic pictured below and these headphones. Headphones are really important because they help you determine what the microphone is really picking up.
If it's windy and you are depending on the wind sock to soften the sound, you will be very disappointed when you go to edit and all you can hear is wind. And sometimes you forget to turn the boom mic on.
Having headphones allows you to fix these problems right away on set to avoid frustration and possibly a reshoot later. 
Gaffer's tape is another thing that is truly essential on set. This tape sticks to almost everything:
Fabric
Backdrops
Cords
Microphones
Glass
Walls
Carpet
Cement floors...
Everything
And it leaves no residue!

We mostly use gaffer's tape to hold costumes together, to keep cords taped to the ground, to mark where actor's need to stand, to mark shoulders for shooting (more on that in Phase 11). You need gaffer's tape.
When you are shopping for new items, try to keep in mind things that you can use in multiple films: stone backdrops, white renaissance shirts, crinoline slips, greenery in vases...
Of course you will want an all new costume that won't be reused for the characters with speaking roles, especially the main roles. If you can use base layers that can be reused, that is the best way to go. 
Backdrops are much less expensive than creating a set. Using props in the forefront gives the effect that your set is much more elaborate than it really is. Backdrops are another thing you are going to want to be reusable, even in the same film. 
The image showing the sets used in Grisly Grisell below shows how we were able to use a stone backdrop for Grisell's chamber and then flip it for the Bruges Inn.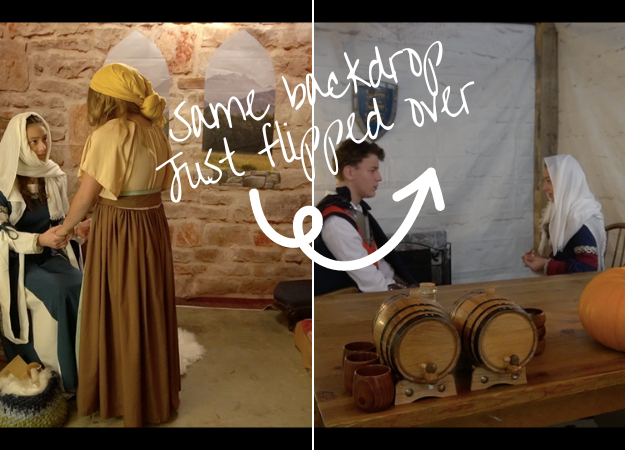 Where you shop is really dependent on what era your movie takes place. Online, Museum Replicas has all kinds of swords and clothing for viking or medieval era.
Amazon has just about everything. So does Wayfair although they are a little more expensive than Amazon.  Joann has fabrics (of course), brooches, buttons and jewelry that you can get creative with. 
If you are fortunate enough to live next to craft stores like Ben Franklin's, Hobby Lobby, or Michael's, you are most certainly going to want to stop by and look to see what you can use there.
Task 3 Checklist:
Source new items on the internet and at your local stores. Try to find things that can have multiple uses for this film and future films. 
Equipment That We Own
Upgraded Sound
Props That We Own
Set Savers That We Own
Costumes That We Have Used In Several Movies
And that's it for Phase 5! You are now ready to get going on Phase 6:
Do You Still Have Questions About Where To Source Moviemaking Essentials?
Did I miss something on this page? Do you have any more questions about where to source items for your current project, where we are sourcing items for our current project, sources for filmmaking in general? Do you have a favorite place for sourcing these moviemaking equipment, costumes, props, or sets?
Please share them below. I'd be happy to hear what you have to say or what I can help you with!
We can't wait to hear about your accomplishments and celebrate with you. So, please, don't hesitate to tell us what you are thinking!