"Family Fun Activities Keeping You Focused On What Matters!"

December 9: Samuel, Jesse and David-Ornaments #10, #11, and #12


Samuel
1King 3:3-4, 10, 19-20
"Before the lamp of God went out, Samuel slept in the temple of the Lord, where the ark of God was. And the Lord called Samuel. And he answered: Here am I...And the Lord came and stood: and he called, as he had called the other times: Samuel, Samuel. And Samuel said: Speak, Lord, for thy servant heareth.
And Samuel grew, and the Lord was with him, and not one of his words fell to the ground. And all Israel from Dan to Bersabee, knew that Samuel was a faithful prophet of the Lord."
Jesse
1King chapter 16
"And the Lord said to Samuel: How long wilt thou mourn for Saul, whom I have rejected from reigning over Israel? fill thy horn with oil, and come, that I may send thee to Isai the Bethlehemite: for I have provided me a king among his sons...and thou shalt anoint him whom I shall shew to thee.  Then Samuel did as the Lord had said to him...And he sanctified Isai(Jesse) and his sons, and called them to the sacrifice.
Isai therefore brought his seven sons before Samuel: and Samuel said to Isai: The Lord hath not chosen any one of these.
And Samuel said to Isai: Are here all thy sons? He answered: There remaineth yet a young one, who keepeth the sheep. And Samuel said to Isai: Send, and fetch him, for we will not sit down till he come hither. He sent therefore and brought him.

Now he was ruddy and beautiful to behold, and of a comely face. And the Lord said: Arise, and anoint him, for this is he. Then Samuel took the horn of oil, and anointed him in the midst of his brethren: and the spirit of the Lord came upon David from that day forward."
David
1 King chapter 17

"And as (David) talked with them, that baseborn man whose name was Goliath, the Philistine, of Geth, shewed himself coming up from the camp of the Philistines. And all the Israelites when they saw the man, fled from his face, fearing him exceedingly. And some one of Israel said: Have you seen this man that is come up, for he is come up to defy Israel. And the man that shall slay him, the king will enrich with great riches, and will give him his daughter, and will make his father' s house free from tribute in Israel.
...And Saul said to David: Thou art not able to withstand this Philistine, nor to fight against him: for thou art but a boy, but he is a warrior from his youth. And David said to Saul: Thy servant kept his father's sheep...And David said: The Lord who delivered me out of the paw of the lion, and out of the paw of the bear, he will deliver me out of the hand of this Philistine.
And Saul said to David: Go, and the Lord be with thee...And he took his staff, which he had always in his hands: and chose him five smooth stones out of the brook, and put them into the shepherd' s scrip, which he had with him, and he took a sling in his hand, and went forth against the Philistine.
And David said to the Philistine: Thou comest to me with a sword, and with a spear, and with a shield: but I come to thee in the name of the Lord of hosts, the God of the armies of Israel, which thou hast defied...And he put his hand into his scrip, and took a stone, and cast it with the sling, and fetching it about struck the Philistine in the forehead: and the stone was fixed in his forehead, and he fell on his face upon the earth.
And David prevailed over the Philistine, with a sling and a stone, and he struck, and slew the Philistine. And as David had no sword in his hand. He ran, and stood over the Philistine, and took his sword, and drew it out of the sheath, and slew him, and cut off his head. And the Philistines seeing that their champion was dead, fled away."
Read about the Jesse Tree Tradition
December 8th: Develop An Interior Life With The Immaculate Conception
The feast of the Immaculate Conception is another feast when there is an opportunity to form children's interior life. On this day we celebrate Mary being conceived, by a special grace of God, without original sin. Our Lord's human nature came from Mary who was preserved from all stain of sin.
Things to do:

Consecrate or renew a consecration of each member of the family to the Immaculate Heart.

Talk about original sin and the effects of baptism.

Teach your children to pray that their baptismal innocence will remain until the day they die.
December 6th: Happy St. Nicholas' Day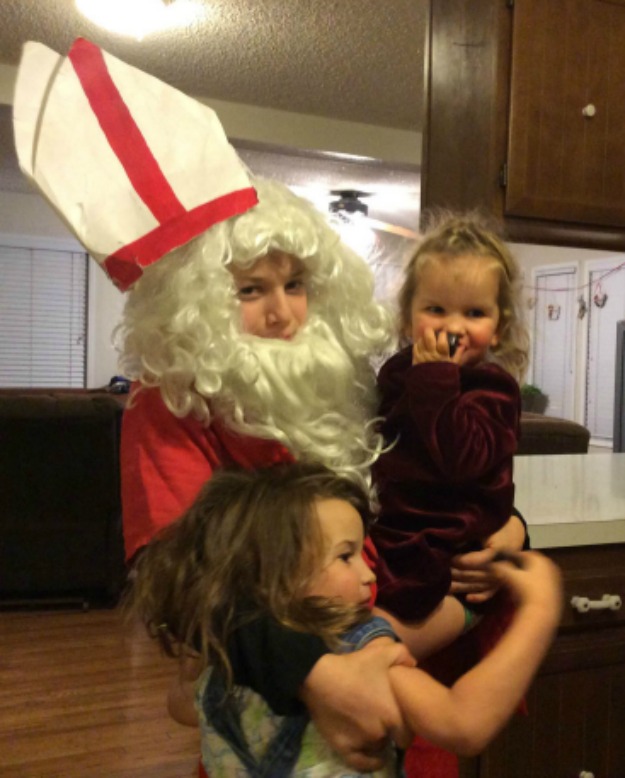 St. Nicholas' Day is a wonderful opportunity to drive home the sacrificial nature of Advent.
In our home, the children leave their boots out on the eve of St. Nicholas' Day. In the morning they are filled with toys and candy.
After dinner, St. Nicholas makes a visit in person to our home. One of our favorite stories is the Winged Watchman so we make sure Peter Bass accompanies St. Nicholas.
The holy patron of children always tells the children that he has come from heaven, and that is their special patron who's praying for them.
He questions each child about what they are doing to prepare their hearts for Christmas. He gives them some chocolate and departs leaving the children with holy thoughts.

December 6th: Joseph Advent Ornament #8

We accidentally mixed up the order so Joseph should have come before Moses. Sorry.
Genesis 37:11,18, 23-25, 28, 31, 36
"His brethren therefore envied him...And when they saw him afar off, before he came nigh them, they thought to kill him...
And as soon as he came to his brethren, they forthwith stript him of his outside coat, that was of divers colours: And cast him into an old pit, where there was no water. And sitting down to eat bread, they saw some Ismaelites on their way coming from Galaad, with their camels, carrying spices, and balm, and myrrh to Egypt.
And when the Madianite merchants passed by, they drew him out of the pit, and sold him to the Ismaelites, for twenty pieces of silver: and they led him into Egypt...And they took his coat, and dipped it in the blood of a kid, which they had killed...
The Madianites sold Joseph in Egypt to Putiphar, an eunuch of Pharao, captain of the soldiers."

Read about the Jesse Tree Tradition
---
What We're All About

Many think that in order to have fun they must enjoy one pleasure after another. Unfortunately, this pursuit of pleasure will ultimately leave you feeling empty and weighed down.
Don't let your family fall into this pleasure seeking trap. There is a better way to live and have fun as a family.

Sometimes pleasure is a part of our fun, but mostly we work hard at fostering diligence. Adopting our lifestyle and incorporating the fun-filled ideas found here is guaranteed to make your family more peaceful, tight-knit, and holy. 

Pave the way for fun with...
Here we must mention caring for animals. Family pets not only teach responsibility but they also teach generosity and instill an appreciation for God's creation.

Idleness Is The Devil's Workshop

Industriousness is the virtue of diligence--a zealous and careful persistence in your work and actions. This conscientiousness shines through in areas such as budgeting your time, stick-to-it-iveness, and giving it your all.
"He who does not do his work to serve God turns his work into idleness." -St. Bernard

Idleness is the devil's workshop. Wholesome family fun and fostering industriousness in your family will combat sloth. Sloth is more than merely laziness...
...it is a desire to escape from God seeking worldly pleasure while ignoring your duties to Him, your family and your neighbors.
Cultivate industriousness and other virtues in your family. Explore more ways of growing in holiness as a family...
Entertainment That Increases Family Fun

Enjoying edifying books, wholesome movies and good music is important for families. Avoiding bad entertainment is an absolute necessity!
Use our
as a guide to the next book you or your children will read or listen to...
Family Fun And Staying Out Of Trouble

Many times family projects are loads of fun. Your family is bound to stay out of trouble as they keep busy creating things. One area to consider beginning a project is the do it yourself home improvements category.
Improving the look and functionality of your home will make it a more enjoyable and fun place to be. 
Discover other projects that you can do as a family that are fun:
At the end of each project, you will feel proud and the receiver will feel the love your family put into the meaningful gift.
The Daffodil: Industry's Flower

"Scarcely has the winter's snow disappeared from the sunny fields at the approach of spring when a charming gold-colored flower makes its appearance-I mean the daffodil.
I have chosen it from among its brethren and sisters, the fair children of spring, and I have called it industry's flower because it hastens to blossom as soon as possible."
-Fr. Lasance The Catholic Girl's Guide

A Sense Of Accomplishment

Hard work, attention to details, and extra touches make special events, holidays, and parties more fun.
Fun For Vacations & Family Reunions

Your vacations, as well as your family reunions, can be more memorable and fun when diligence and a spirit of organization are applied. When things are organized, they will become more enjoyable.
Start planning a fun family trip or weekend getaway to one of our favorite cities with our what to do and where to stay guide. Read more here...

What Matters Most?

Getting to Heaven! Wholesome family fun will help you get there. So what are we waiting for. Grab your family and check out how to shake up some family fun.
---
Subscribe To The Industrious Family Gleaner!

We Respect Your Privacy.