"Family Fun Activities Keeping You Focused On What Matters!"

April 28: New Crochet Basket!

In case you missed it we had a "Name That Bird" guessing game on Instagram. We posted a picture of a bird we saw in our yard and the first person who guessed the correct answer we would send a free crocheted basket.

The correct name for the bird was a Scrub Jay. The basket that we made for the winner had a new inspiration: a fluffy rim!

Follow us on Instagram for a chance to win the next "Name that Bird" game!
To perchance your own crochet basket click here.

Mar. 14: St. Patrick's Day Is Just Around The Corner!

Hello everyone! It is time to get ready for St. Patrick's Day!Here are some ways that we celebrate.

Of course we wear our green on St. Patrick's Day and try and enjoy a festive meal or at least a treat, but what we really like to do is combine St. Patrick's Day and St. Joseph's Day and have a St. Joseph's Day table.
We do this by having a Italian meal sometime between St. Patrick's and St. Joseph's day.
These can be very elaborate or a simple gathering with a family and friends. Sharing and enjoying one another's company is the idea. Another way to truly carry out the tradition of feeding the hungry is to invite a family or someone you wouldn't usually socialize with. This meal may spark a life long friendship!
To add an Irish flair to the St. Joseph's table prepare some Irish entertainment. A sing-a-long, or some performances would be perfect!
Here is our St Patrick's Day Pinterest board loaded with decorating ideas, crafts and more!

Feb. 25: Lent Is Just Around The Corner!

Wow, it is already here. March 1st is Ash Wednesday!

We observe Lent by fasting and penance. A family fun activity is playing a game called "Secret Agent". Each Sunday during Lent, we each draw a family member's name out of a hat. All through the week we do good deeds for that person.
We do their chores one day, we make a spiritual bouquet for them.We ask priests to offer a Mass for them.
We even give them goodies and try to be more patient with them or take them places with us.
On the following Sunday we try to guess who our "secret agent" was. The children really enjoy this game. It is good for them too because they must work at doing nice things for one of their brothers and sisters or mom and dad.
Giving up something for Lent is an important. We firmly believe in this practice. Saying no to little things is so very helpful in being able to say no to big sins later in life. It's nice to do things like say more prayers or do good works but the real benefit is in the traditional idea of giving something up for Lent.
So yeah! Give up chocolate for Lent!
February 13th: Valentines Day Party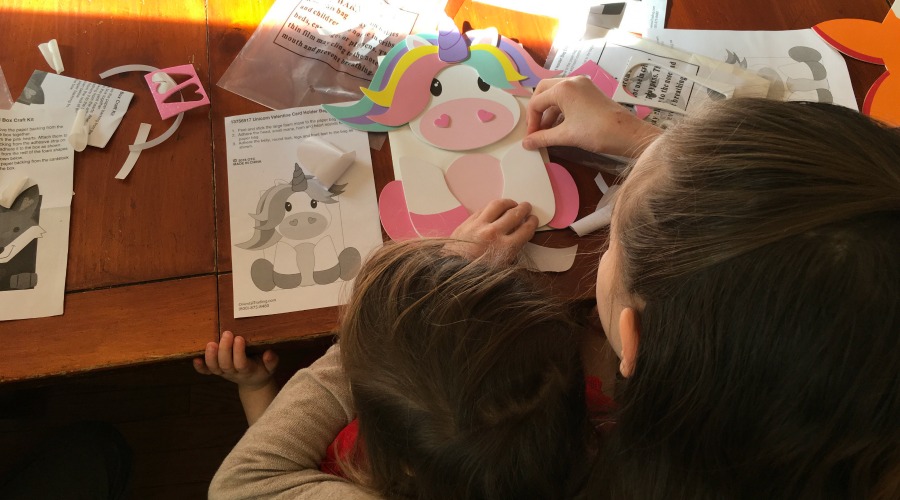 We celebrated a day early this year. We had some homeschool friends over and made a craft then had lunch. We made valentine holders I bought from Oriental Trading Company. These are fun for all ages. The children today ranged from 2 to 16. Everyone made one.
We have already made valentines for one another this year and will exchange them tomorrow. Some years I give the children construction paper and markers, but this year I splurged and bought each of them a kit from Oriental Trading Co.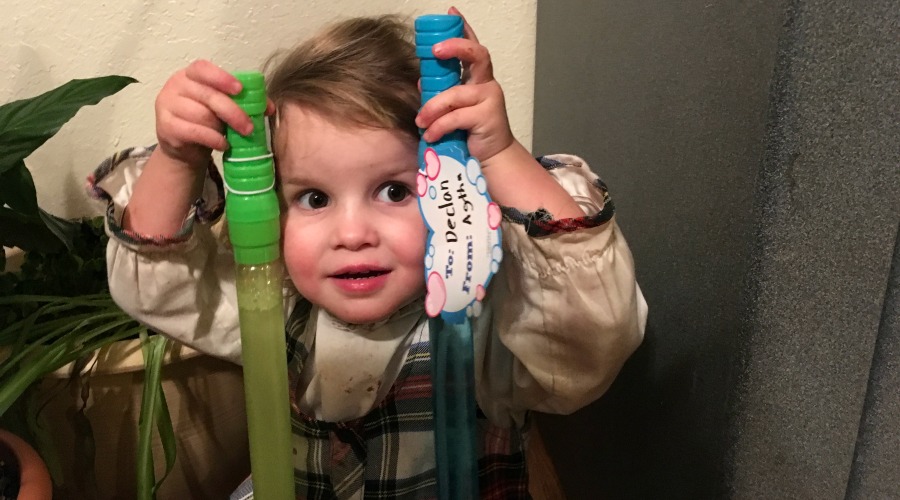 Toddler-fah made bubble wands. These were super easy as all she had to do was attach the label to the bubbles. We did learn that bubbles don't ship well. There were some spills. The labels were very cute. They read, "I am bubbling over with excitement that you are in my class." I scratched out class and wrote family. You could easily make a stop at the dollar store, buy some bubbles, and make your own labels. I'll do that next time around.
Lolli's was by far the most labor intensive. Maybe that was because I had to help, lol. I am getting so used to having teenage daughters, but they weren't home that day. They are such a blessing to me, always eager to help and never saucy like teenage girls are suppose to be. Anyhow, Lolli made sun catchers. They turned out lovely. We (read: I) made a solution of Elmer's glue, or milkie as we call it, and water. I painted it onto some precut heavy plastic hearts. Lolli dropped precut tissue paper onto the glue. Then we added the precut foam frames when the tissue was dry. They turned out really pretty.
Deckers made clothes pin butterflies. They were cute and he was able to do them by himself. He is six. It was a completely peel and stick project, and he was able to follow the picture directions. We will put a dollar bill into each clothespin so the other children can buy themselves a candy bar. Another option would be to write a nice Valentine's message. Since Deckers is not a writer yet, I think it best to put a buck in each one this year.
Sham-wow put together my personal favorite. "St. Valentine, Pray for Us" valentines. I was thrilled with these. It isn't very often you find a truly Catholic valentine from a secular company. I loved it. The Bible verse is: "My dearest, if God hath so loved us; we also ought to love one another." 1John:4-11 These were easy but fun for Shammy to put together.
Iggy's valentines were a little difficult. They had a religious feel with the crosses but they were difficult crowns for him to put together. It must have been the design. They were the only difficult ones, and as a ten-year-old, Iggy usually doesn't struggle with crafts. I can't wait to wear my crown around the house tomorrow.

Mike and Teen-a made their own valentines on prefolded cards and envelopes I purchased. There were pink, red and white cards and came with envelopes. I also purchased them some foam valentine-themed bug stickers, and they used some nice markers to complete the cards.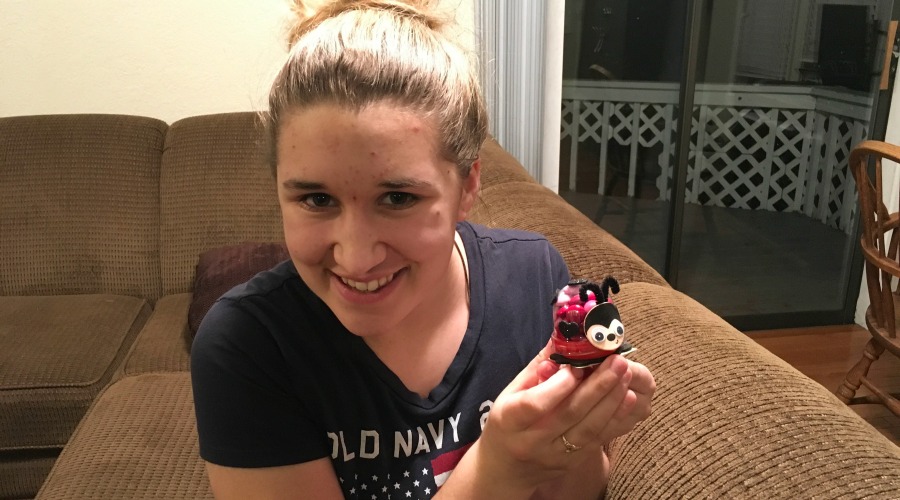 Bee Jay made adorable love bug candy holders. We don't eat a lot of candy but I did buy a bag of St. Valentine's Day colored M&Ms. It made them so cute. She put a little message to each of us on a post-it note. I can't wait to read mine.
As for me, I'm a little lame and didn't get around to anything :( I did buy some yummy chocolate covered dehydrated strawberries from Costco. I think I'll put them in snack bags and put a sticker on the bag to dress it up a little.
St. Valentine's Day is a great day as it comes just as the winter seems so long. The snow has melted a little and I know there are bulbs somewhere out in the yard that will come up soon.
St. Valentine, pray for us homeschooling mommies and our dear little ones.
---
What We're All About

Many think that in order to have fun they must enjoy one pleasure after another. Unfortunately, this pursuit of pleasure will ultimately leave you feeling empty and weighed down.
Don't let your family fall into this pleasure seeking trap. There is a better way to live and have fun as a family.

Sometimes pleasure is a part of our fun, but mostly we work hard at fostering diligence. Adopting our lifestyle and incorporating the fun-filled ideas found here is guaranteed to make your family more peaceful, tight-knit, and holy. 

Pave the way for fun with...
Here we must mention caring for animals. Family pets not only teach responsibility but they also teach generosity and instill an appreciation for God's creation.

Idleness Is The Devil's Workshop

Industriousness is the virtue of diligence--a zealous and careful persistence in your work and actions. This conscientiousness shines through in areas such as budgeting your time, stick-to-it-iveness, and giving it your all.
"He who does not do his work to serve God turns his work into idleness." -St. Bernard

Idleness is the devil's workshop. Wholesome family fun and fostering industriousness in your family will combat sloth. Sloth is more than merely laziness...
...it is a desire to escape from God seeking worldly pleasure while ignoring your duties to Him, your family and your neighbors.
Cultivate industriousness and other virtues in your family. Explore more ways of growing in holiness as a family...
Entertainment That Increases Family Fun

Enjoying edifying books, wholesome movies and good music is important for families. Avoiding bad entertainment is an absolute necessity!
Use our
as a guide to the next book you or your children will read or listen to...
Family Fun And Staying Out Of Trouble

Many times family projects are loads of fun. Your family is bound to stay out of trouble as they keep busy creating things. One area to consider beginning a project is the do it yourself home improvements category.
Improving the look and functionality of your home will make it a more enjoyable and fun place to be. 
Discover other projects that you can do as a family that are fun:
At the end of each project, you will feel proud and the receiver will feel the love your family put into the meaningful gift.
The Daffodil: Industry's Flower

"Scarcely has the winter's snow disappeared from the sunny fields at the approach of spring when a charming gold-colored flower makes its appearance-I mean the daffodil.
I have chosen it from among its brethren and sisters, the fair children of spring, and I have called it industry's flower because it hastens to blossom as soon as possible."
-Fr. Lasance The Catholic Girl's Guide

A Sense Of Accomplishment

Hard work, attention to details, and extra touches make special events, holidays, and parties more fun.
Fun For Vacations & Family Reunions

Your vacations, as well as your family reunions, can be more memorable and fun when diligence and a spirit of organization are applied. When things are organized, they will become more enjoyable.
Start planning a fun family trip or weekend getaway to one of our favorite cities with our what to do and where to stay guide. Read more here...

What Matters Most?

Getting to Heaven! Wholesome family fun will help you get there. So what are we waiting for. Grab your family and check out how to shake up some family fun.
---

Subscribe To The Industrious Family Gleaner!

We Respect Your Privacy.