"Family Fun Activities Keeping You Focused On What Matters!"

New Book Summary
:Come Rack! Come Rope!
"I really enjoyed Come Rack! Come Rope! I read it once before and I liked the plot. I read it the second time aloud to my sister and we had many good discussions about characters, places and other things that happened at that time. Robert Hugh Benson keeps the story moving in a quick pace, keeping the reader very involved in the plot of the story. I would recommend this book to anybody who is interested in the Protestant Revolt in England."
Come Rack! Come Rope!, by Msgr. Robert Hugh Benson takes the reader to the Protestant Revolt of the 16th century which is well into its course with a cruel Protestant Queen on the throne of England killing Catholic priests and laymen in her wake. In this 469 page historical fiction, published by Lepanto Press, copyright in 2001, Catholics find ways to live, keep and even die for their Faith. They hide priests in unknown places and hear Mass secretly. In this hard time the reader meets Robin Audrey; a young boy who struggles to keep the old Faith without support from his father, and Marjorie Manners, a young girl who is not afraid to play a dangerous game in order to help others.
Oct. 17: Update on the Angoras!

We were at the county fair in August and of course I (Bee-Jay) was in the rabbit barn looking at the rabbits and the ribbons. There where a few different breeds but I was enjoying looking at the angoras. My eye fell on a beautiful orange doe with dense wool, clear eyes and a sweet temper.

I can't remember how it happened but I ran into the young owner and her mom. We fell into talking about angoras, shaving and grooming. They let me hold Bramble and I fell in love with her personality and wool value. After we had drained all our knowledge to each other, I mentioned that I had a rabbit to shave the next day and wondered if they would like to come over and see how I do it.
After I had scheduled a time, put the rabbit back in her cage and prepared to go to the pig barn I ran back and hinted that I had a male and asked if they wouldn't mind breeding. The 11 year-old-owner was very exited and so was I. They would bring Bramble, shave a rabbit and hope for a successful breed.
Because Bramble was surrounded by other males in the rabbit barn she was in heat. When Bramble came I put her in with Azarias and he did his business right of the bat. Within a few minutes I was sure of a successful breed.
I think the pictures can end this story well.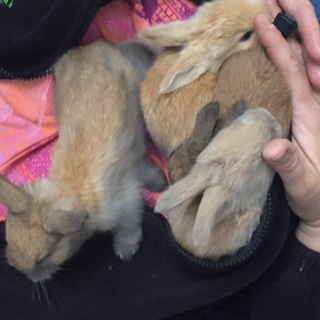 At the end of the month we hope to have two new angora members on the Industrious Family Rabbitry. Also, at the end of the month Bramble is coming back and we are doing it again!

October 8: Three Recommended Movies And Their Mini Reviews

The Reasons Why We Like Finding Nemo
There are many reasons why Finding Nemo is a very enjoyable family movie.
One reason it is liked it is because it is funny. There are many places where you can't help but laugh aloud from the funny things that are said, done, or seen.
All of the characters have great personalities, but the one that I like most is Dori because she is so silly and forgetful.
It is also very thrilling when Brucie, the shark, tries to eat Marlin and Dori, if you enjoy the thrill of suspenseful movies!
Finding Nemo is a very enjoyable movie and I would suggest it to any one!
-Iggy

The 2016 Jungle Book

There are three main characters who are very likeable in The Jungle Book.
I like Mowgli. One thing that I thought was funny was that he is so diverted into things by his enemies.
I love Baloo. He is very funny by the way he too diverts people into doing things that are profitable to himself. Although King Louie is ridiculously big and scary, he to is somehow likeable.
This might be a good movie for a big kids night, as it is a little scary. But those of us that watched it loved it and would suggest it for all over 8.
-Mike

Anastasia
In Anastasia, a movie on Russian history, there are five main events that happen.
The first event is when all the Czar's family is killed and the beginning of the Bolshevik Revolution.
Next, Demetri and Vald's plan is laid out. After that, they meet Anastasia and go to Paris.
During their trip, Rasputin is all the while trying to kill Anastasia. When they reach Paris, Anastasia is reunited with her grandmother and Rasputin is killed.
All the events of the movie build up to the happy ending. This is a great movie for all ages and is funny for little children and fun to watch for adults.
-Teen A

October 5: Pool Party!

This year for a four-year old's birthday, we decided to have a pool party. It was really fun and went well.
We rented a conference room that was just off the indoor pool at a local motel. The price was reasonable and the accommodations were great.
October 2: A Joan Of Arc Book Review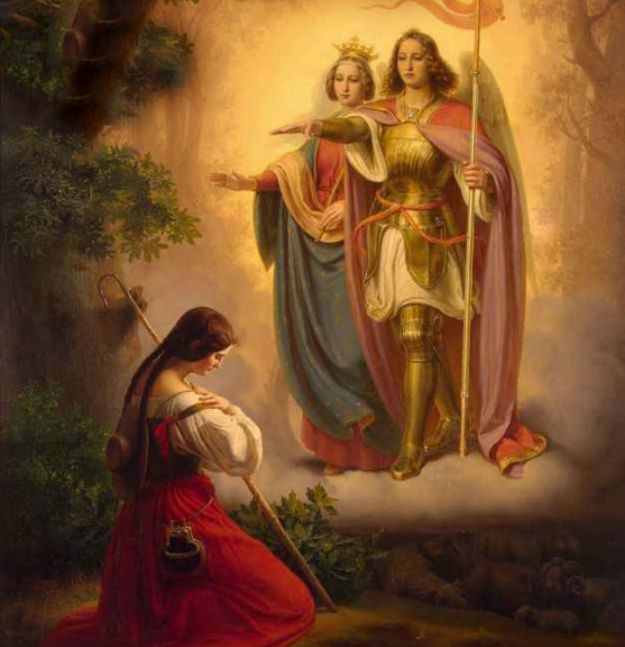 Few people know that Mark Twain (Samuel Clemens) wrote a book about Saint Joan of Arc. With Twain's natural story telling skill and a good twist of humor, this book is probably the best book ever written about the French girl general, Joan of Arc.
He wrote it as an eye witness Louis De Conte who appears in other historical books about this saint. Twain spent 10 years researching Joan and 2 years in writing this masterpiece and it is very correct with her life story. He leaves nothing out. He himself said of it: "I like it best of all my books" and I agree with him. I have read this book 3 times and it never grows old for me. It was this book that inspired me to choose Joan as my confirmation saint. It is an easy read and a truly lovely story that will touch the heart of anyone.

For the boy's English composition they each wrote a paragraph about their favorite character in the story.

Mike (age 12) wrote:

The Paladin
I like the Paladin. I like him because he died for Joan of Arc. His funny imagination and exaggerated stories were truly great to me. I like standard bearers anyway. I think it is silly how much he dislikes Noel. The Paladin is as cool as can be!

Iggy (age 10) wrote:

The Coolest Person in Joan of Arc: The Dwarf
My favorite person in Joan of Arc is the Dwarf. I enjoy how he marches through the battlefield, clearing the path for Joan, "Paving the path with iron and flesh," as Mark Twain says. He is so heroic that he actually dies for Joan. But the real reason I like him is because he is just cool. I like the Dwarf.

Even Teen-A wrote a paragraph:
Noël Ranggassion: My Favorite Character
Of all the characters in Mark Twain's Joan of Arc, Noël Ranggassion is my favorite. Throughout the book his personality shines out to me and I liked him from the start. He is very funny and really loves to tease. He is constantly teasing the Paladin, much to everyone else's amusement. Noël is definitely my favorite person!
---
What We're All About

Many think that in order to have fun they must enjoy one pleasure after another. Unfortunately, this pursuit of pleasure will ultimately leave you feeling empty and weighed down.
Don't let your family fall into this pleasure seeking trap. There is a better way to live and have fun as a family.

Sometimes pleasure is a part of our fun, but mostly we work hard at fostering diligence. Adopting our lifestyle and incorporating the fun-filled ideas found here is guaranteed to make your family more peaceful, tight-knit, and holy. 

Pave the way for fun with...
Here we must mention caring for animals. Family pets not only teach responsibility but they also teach generosity and instill an appreciation for God's creation.

Idleness Is The Devil's Workshop

Industriousness is the virtue of diligence--a zealous and careful persistence in your work and actions. This conscientiousness shines through in areas such as budgeting your time, stick-to-it-iveness, and giving it your all.
"He who does not do his work to serve God turns his work into idleness." -St. Bernard

Idleness is the devil's workshop. Wholesome family fun and fostering industriousness in your family will combat sloth. Sloth is more than merely laziness...
...it is a desire to escape from God seeking worldly pleasure while ignoring your duties to Him, your family and your neighbors.
Cultivate industriousness and other virtues in your family. Explore more ways of growing in holiness as a family...
Entertainment That Increases Family Fun

Enjoying edifying books, wholesome movies and good music is important for families. Avoiding bad entertainment is an absolute necessity!
Use our
as a guide to the next book you or your children will read or listen to...
Family Fun And Staying Out Of Trouble

Many times family projects are loads of fun. Your family is bound to stay out of trouble as they keep busy creating things. One area to consider beginning a project is the do it yourself home improvements category.
Improving the look and functionality of your home will make it a more enjoyable and fun place to be. 
Discover other projects that you can do as a family that are fun:
At the end of each project, you will feel proud and the receiver will feel the love your family put into the meaningful gift.
The Daffodil: Industry's Flower

"Scarcely has the winter's snow disappeared from the sunny fields at the approach of spring when a charming gold-colored flower makes its appearance-I mean the daffodil.
I have chosen it from among its brethren and sisters, the fair children of spring, and I have called it industry's flower because it hastens to blossom as soon as possible."
-Fr. Lasance The Catholic Girl's Guide

A Sense Of Accomplishment

Hard work, attention to details, and extra touches make special events, holidays, and parties more fun.
Fun For Vacations & Family Reunions

Your vacations, as well as your family reunions, can be more memorable and fun when diligence and a spirit of organization are applied. When things are organized, they will become more enjoyable.
Start planning a fun family trip or weekend getaway to one of our favorite cities with our what to do and where to stay guide. Read more here...

What Matters Most?

Getting to Heaven! Wholesome family fun will help you get there. So what are we waiting for. Grab your family and check out how to shake up some family fun.
---
Subscribe To The Industrious Family Gleaner!

We Respect Your Privacy.