Hello everyone!

We hope you all had a wonderful Independence Day! We sure did. Read about our celebration below.

A lot of exciting things going on over at the Industrious Family household! The yurt arrived and we are now focused on erecting a platform to put it on. In this issue of the Gleaner we will share the actual cost of getting a yurt.

Summer is here! Find party themes for summer birthdays or just to celebrate the season in this issue.

Faustina graduated this year! Since Mary graduated last year and missed the party due to the sanitation dictatorship lockdowns, they celebrated together this year. Read about the beautiful time we had below!

Mary, Faustina and Becket were invited to go to Mexico for the first traditional priestly ordination since the Second Vatican Council. It was a wonderful experience and we are eager to share it with you. All this and more in this issue of the Gleaner!

Don't forget we love hearing from you--so please feel free to hit reply if you have any questions or just to say hi!
---
The Actual Cost Of A Yurt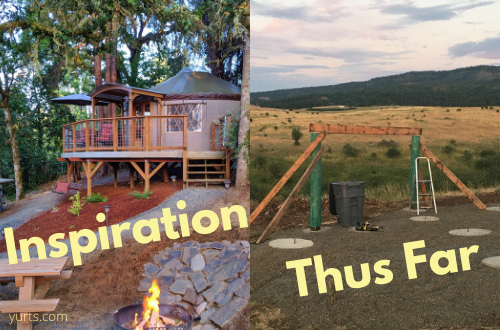 Yurts are beautiful structures that can be used as permanent homes, temporary housing, cabins, studios or simply extra space. The cost of a yurt depends on its use. The major factors to consider when choosing a yurt are the yurt package, the platform cost and the cost of interior finishes.
Add-ons To The Yurt Package
The prices that you see on yurt websites are the base price. A 30' Colorado Yurt starts at $16,752. There are many add ons, however, that most people will want to purchase. Some of the add ons that we purchased were:
Roof and wall insulation
Wind and snow package which included stronger rafters and hardware
Additional fabric windows and insulated window covers
An additional door and an upgrade to a French door

Another expense is crating and shipping. Crating cost about $750 dollars and shipping cost around $3,000. All in all, our yurt cost a little over $30,000.
Platform Cost
There is no floor in the yurt package. You must build a platform that serves as a foundation and floor. We are using mostly reclaimed materials so our budget is on the low end at $5,000. A yurt platform can cost $17,000 or more. Some of the materials we are using include:


Barrels and concrete
Gravel
Hardware
8 inch lodge poles
Reclaimed lumber from a grain mill (this fir will be our trusses and flooring)
Spray insulation kit

Yurts look best with exposed foundations so the foundation should be attractive. Using gravel, stain, nice wood and decorative accents adds to the cost of the platform. 
Another cost consideration includes what type of flooring you want in your yurt. Hardwood flooring, vinyl flooring or tile are all options.
Another cost to consider with a platform is the insulation under the floor. We plan on using spray foam insulation which costs about $700 per 600 square feet. We want a good seal under our floor to keep cold air and pests out.
Interior Finishes
Yurts are shells and interior finishes must be purchased. Our home will include:

2 bedrooms
Loft bedroom
Kitchen
Bathroom
Laundry room

Just like a stick built home the cost of interior finishes depends on the materials used. You will need to:


Run electrical wiring
Install plumbing
Build self supporting walls
Install bathroom fixtures
Install and purchase kitchen appliances and fixtures

All these considerations need to be thought out when purchasing a yurt. Because banks will not lend on yurts, it has to be a cash flowed project. We have wanted a yurt for over ten years. It seemed like an inexpensive option when we first looked into them. It didn't take long to realize that we would need a lot of cash to get the project up off the ground. God blessed us abundantly when our house in California sold for a very good price giving us that chunk of cash we needed! We are so excited and can't wait to share our platform and yurt raising photos with you in the next issue.
---
---
Fourth of July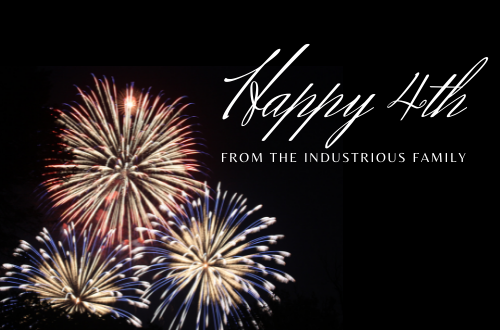 The Fourth of July is a huge celebration in our small town. The oldest rodeo in our state takes place here and lasts the 2nd, 3rd, and 4th, followed by a parade down main street. Stands are set up in the park and we really make an event of it.

This year, we were able to have an Industrious Family Films stand. We sold our movies and some crocheted baskets.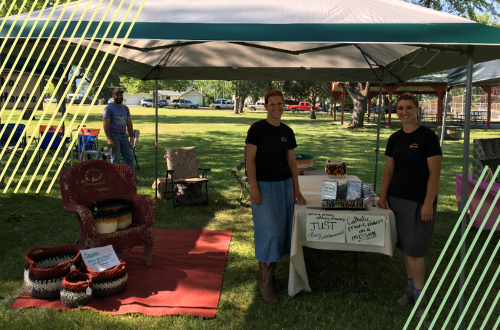 The little kids also enjoyed some old fashioned sports like the egg toss, foot races, and fishing for toys like in Pollyanna.

The older boys were also very happy to help run a concession stand for our church at the rodeo. Late on the fourth, we watched the town firework display from our property. We had a great view and there was an even greater display.
---
Summer Birthday Parties
Summer is here! With summer comes whole new opportunities for celebrating. Visit our outdoor party page to discover party themes for summer birthdays or just for fun. Our top party pages are backyard Highland games, luau birthday party, and a Mad Hatters Tea.

---
Graduations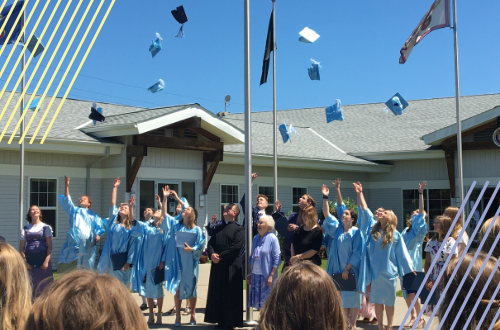 Mary, a 2020 graduate, and Faustina, a 2021 graduate, enjoyed a joint graduation at Our Lady of Victory School. It was a beautiful ceremony that began with Mass and was followed by the ceremony in which they were handed their diplomas.

The two girls are eager to embrace and pursue Catholic moviemaking careers. They have plenty of ideas for future moviemaking projects. If you want to help financially or offer a word of encouragement, please visit our pay it forward page or our contact us page.

---
Our Trip To Mexico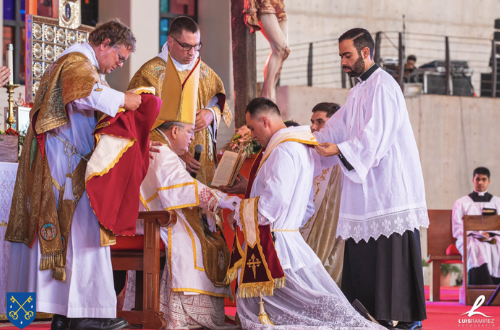 Mary, Faustina and Becket were invited to an ordination in Mexico the second week in June. They had a great time and were honored to attend the first traditional ordination in Mexico since the Second Vatican Council.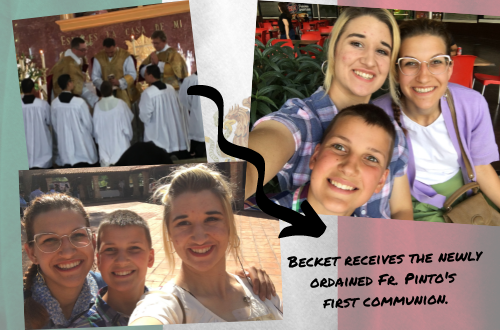 Our hosts did not speak English, and we spoke no Spanish so we spoke mainly through gestures and guessing at what they were saying. They were very nice people and we really enjoyed talking to them. They were always laughing and light hearted. There were three days of conferences and Pontifical High Masses celebrated by Cardinal Burke and, of course, the ordination. It was such a blessing to be there!
---

Help keep us on the web by spreading word of mouth buzz. Share, follow, like, and forward. We love when you share about us on your favorite social media platform! You can follow us on Gab, Rumble, MeWe, and Parler. Guess what? We're conservatives!


The Industrious Family
IndustriousFamily.com
---
You May Also Like: