Hello everyone!

Welcome to a virtual tour of our home! Scroll down and you'll find #yurtliving pictures of the interior.

As we progress through Lent-the time of penance for Catholics-up your game by checking out our Lent pages.

Today is St. Patrick's feast day and right around the corner is St. Joseph's feast day, a first class feast, so be sure to celebrate. Our St. Patrick and St. Joseph pages will get you in the mood. Check them out below.

Don't forget we love hearing from you--so please feel free to hit reply if you have any questions, comments or just to say howdy!
---
Book Suggestions for Tween Girls
Grisly Grisell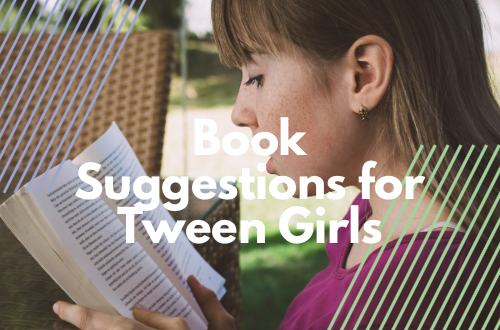 Ahh, the classics. Get the young ladies in your life reading literature that encourages virtue courtesy of Charlotte Yonge. The top recommended novel beloved for its chivalry, innocent romance and adventure is none other than A Tale of the War of the Roses Grisly Grisell.

This one is so high on Industrious Family's favorite books, we simply could not resist turning it into a movie!

Check out this page for
A book review and story synopsis
Other tween girl book suggestions
Meet the actors from the film
Costumes from the film
Set photos from the film
Locations, the music score and more!
Stay tuned for the music video on the NEW! Love is a Beauty pop song from the Grisly Grisell credit roll!
---

---
#YurtLiving
Welcome to our yurt! We've been sharing our yurt experiences up until now and it's high time we give you a peek inside.

It's not the luxury yurt we dream about, but we have lived in it, off-the-grid-all winter--yes, all 12 of us in 704 sq. ft!

Picture 1 is our living area located just inside the front door. It spans both sides of the door. We have a mission style chair and a love seat. We get out "poofs" for extra seating in the evening when we are relaxing as a family. Our wood burning stove is in this area. We also heat water up next to the stove with a propane turbo burner. We have 54 hooks that we hang hats, coats, and purses on. We have clothes lines strung up in the room for drying laundry and a large box for shoes.

Dead ahead is the dining area, as shown in Picture 2, where we eat meals and homeschool. We have toy storage in this room as well. There is a dresser in front of the double doors that will eventually lead to a deck. We keep our school books, some glasses and our liquor cabinet in this room.

If you go to the right, you enter our galley kitchen (Picture 3), complete with primitive countertops! I have had a galley kitchen before and really hated it. So it was a surprise to the family when I decided that the yurt would have a galley kitchen. It really is a good use of space and I think it works well in our 704 square foot home. Our fridge and oven run on propane and batteries. A bookcase serves as our cupboard and another as our pantry.

Through the galley kitchen and to the left is our utility/bathroom/dressing room as shown in Picture 4. This is a very busy room and the layout works really well. Many of us brush our teeth and wash our faces at the same time. It also serves as the laundry station on Mondays and Tuesdays. Clothes lines are strung up in this room to hang laundry to dry.

As seen in the dining area photo, there is a bedroom behind the bookcases. Picture 5 shows the bedroom. Six children sleep in this room. The mattresses that are standing up in the photo are pulled into the kitchen and dining room sleeping two more. There is a hide-a-bed mattress that we pull out at night and put on the floor in front of the couch. The baby sleeps with us and the other little one sleeps on a small mattress on the other side of the living room.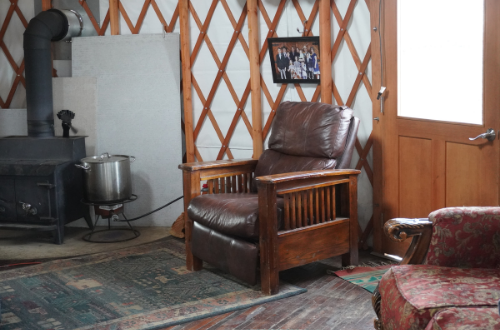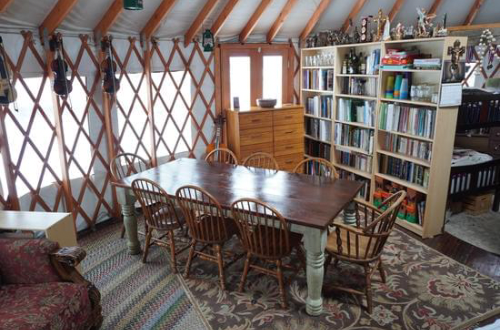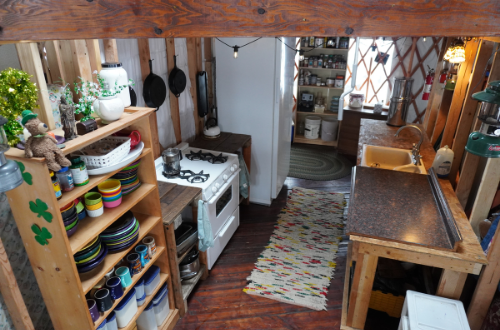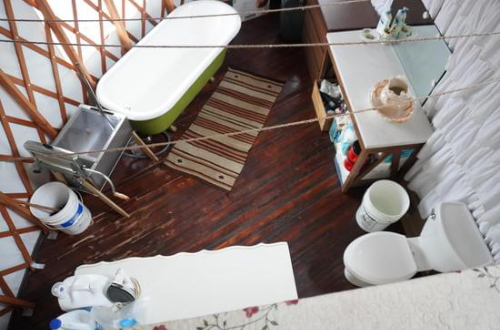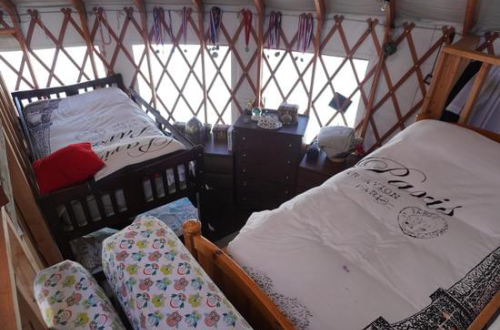 The projects we are focusing on this spring are a simple two car garage and a solar power system. The garage will house solar batteries, firewood, and storage so we can unload our storage unit. Our solar panels will be installed on the roof.

We are also chipping away at a loft bedroom and finishing the bathroom. Life is good!
Catholic Lent Observances In The Family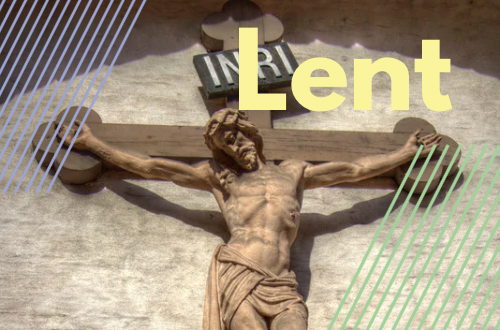 It is that time again: Lent. The acts of mortification, extra prayer, and alms giving begin. It is a time to unite your own daily sufferings with those of Our Lord on the cross so as to build up the body of Christ. Lent gives families an opportunity to offer small daily sacrifices for the conversion of sinners and for each member's spiritual growth.

Get your Catholic Lent questions answered with a host of ideas for implementing a fruitful lenten season. Projects, book recommendations, and videos all help encourage your family to make the most of this sacrificial season.


---
St. Patrick's Day March 17th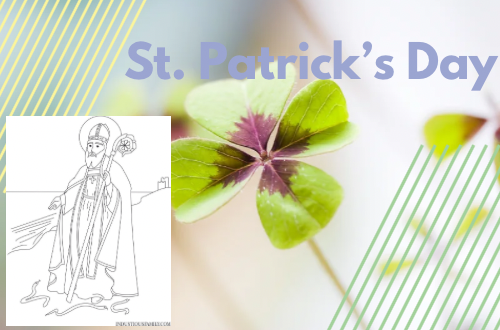 One of the greatest saints and bishops in Catholic history is St. Patrick. Not only did he bring a whole nation to God but he also made it possible for the Church to survive the barbarian invasion and eventual fall of the Roman Empire.

St. Patrick was born in Caledonia and at a young age was very worldly. He knew little of his faith and was quite arrogant. He was captured by pirates at the age of 16 and sold into slavery on the island of Eire.

In Eire the people practiced a cruel, pagan religion. Exposure to this demonic religion made Patrick recall the Faith of his parents. With the help of fellow Catholic slaves he learned more about his religion and became very humble.

On a desolate hillside, Patrick heard the voice of God. God told him to go home and Patrick miraculously escaped returning to his home in Caledonia. After some time, he still did not know what God wanted from him. Finally in a dream he heard the people of Eire calling to him begging him to return and teach them the Catholic faith.

St. Patrick went to Gaul, became a seminarian, was ordained a deacon, then a priest, consecrated a bishop, and was finally sent back to Eire.

In Eire he had to fight the cruel druid religion, its priests, its demon-gods, including the devil himself, all while undergoing many hardships. St. Patrick's greatest trail was when some in the hierarchy in Rome spread lies about him. They were jealous that an unlearned man had in such a brief time gained so many souls and achieved so much. St. Patrick had to clear himself of these charges. This was his worst trial.

Not only did Patrick convert an entire nation and bring many souls to God. Later, Ireland became known as the Land of Saints and Scholars.

These spiritual sons and daughters of St. Patrick saved Western civilization. As the Roman Empire crumbled and the pagan barbarians pushed down from the north, Ireland sent out her saints and scholars to convert these barbarian peoples.

May God send us another St. Patrick! Print his coloring page here!
St. Joseph's Day March 19th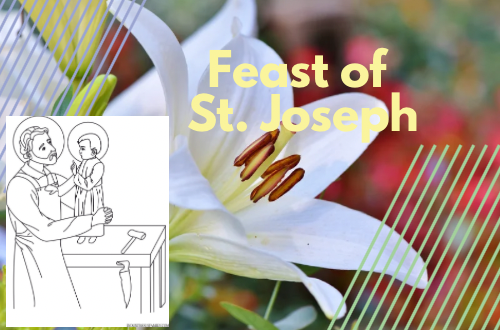 "Hail Comrade of Angles!"
St. Joseph was the foster father and guardian of God made man, Jesus Christ. As the perfect model for fathers, St. Joseph always fulfilled the Will of God. This was never done for his own glory but for the good of the Blessed Virgin Mary and Jesus.

Good St. Joseph listened to the angel when he told him to marry the Virgin. He woke Mary and told her the Christ Child was in danger and took his family into Egypt after yet another message from an angel. He led the family back to Nazareth when an angel told him it was safe for him to do so. St. Joseph listened for God and always responded when he heard the call.

God raised St. Joseph to the highest sanctity. St. Joseph had every virtue that is most admirable in a man. Sacred Scripture says that St. Joseph was a just man, he was pure and innocent, gentle and tender and worthy enough to be called the father of Jesus.

Print his coloring page here!
---

---

Help keep us on the web by spreading word of mouth buzz. Share, follow, like, and forward. We love when you share about us on your favorite social media platform! You can follow us on Gab, Rumble, MeWe, and Parler.


Wishing you a blessed Lent, The Industrious Family
IndustriousFamily.com
---
You May Also Like: