Focusing On Frequent Family Fun
November 13, 2015 | Issue 002 | Fun Fall Activities
---
Note From The Editor:
Dear Friends,

Winter is starting to set in. It is cold at nights as well as in the days and we had our first snowfall. We have to start fires in the morning to heat the house. Late fall is a fun time of year; burning leaves and yard debris, playing in the snow, drinking hot cocoa and eating roasted nuts and seeds.

This newsletter is dedicated to sharing fall activities which include preparing sunflower seeds, a festive peanut butter pie, a craft idea, plus a book and music review.

A little on us: our school year is in full swing. The co-op classes have begun and Bee-Jay gave an angora demonstration. She taught two families how to care for angoras covering care and housing through shearing and spinning their wool. Two young girls went home to ask their dads if someday they could bring home an angora.

To read more about angoras, visit here...

Also, this month we are getting our movie making group together. Our co-op class went great! We made a small video about Rumpelstiltskin. Some of the kids got to act while others filmed and "ran the show".

After watching and reading The Scarlet Pimpernel (a review to come), we thought it would be fun to make a movie that more closely follows the novel. Our script writer is writing a script for it, and the movie will probably be completely done in the summer 2016. We are so excited!

"Daisy" the Jersey, after 18 months of faithful milking, went to meet her bull-friend the other day. She will stay with him for two heats and will hopefully be back to her normal milking routine in June. He is an angus, we wanted to breed her with a dairy bull, but beggars can't be choosey.

Information on owning a family milk cow can be found here...

We will be documenting our dive into the GAPS diet on our blog so please continue to check that out and remember to like us on Facebook.

Thank you for subscribing to our newsletter. If you enjoy what you read, please forward it to your email list. If you aren't subscribed, you can subscribe to this newsletter here...

May God bless You! The Industrious Family
---
In This Issue:
A Note From The Editor
Making Homemade Sunflower Seeds: A Pictorial Guide


Recipe Of The Month: Peanut Butter Pie


Book & Music Reviews: These Happy Golden Years by Laura Ingalls Wilder Johnny Horton Makes History


---
Turning Sunflowers Into A Tasty Snack In Pictures!
Yep, for all those that like to crack and eat sunflower seeds, to those you just like to suck on them and try to spit them as far as dad; here is a guide to making your own sunflower seeds.

All you need to begin are:
Handheld pruners
5 gallon bucket
Seasoning
Salt
Water
Oven
Cookie sheets
And of course the sunflower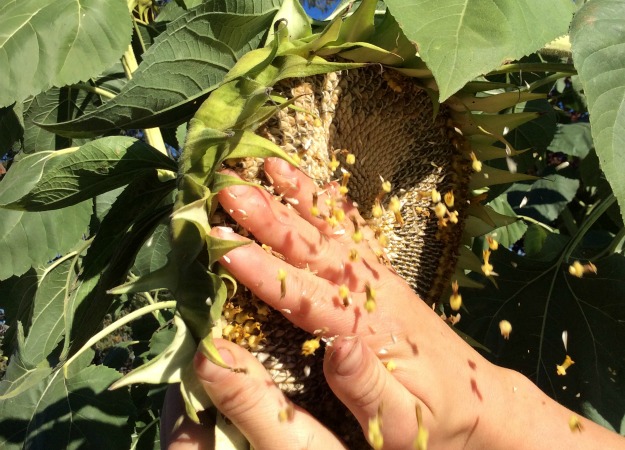 Step #1 Sunflowers are ready in late autumn before the first frost. They should be yellowing and the seeds should have a visible black streak. Remove the petals and things you don't want in your sunflower seeds.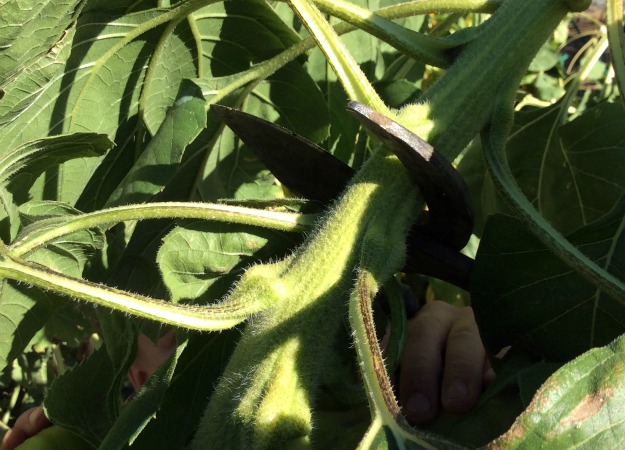 Step #2 Chop the heads of the sunflower about six inches from the bloom.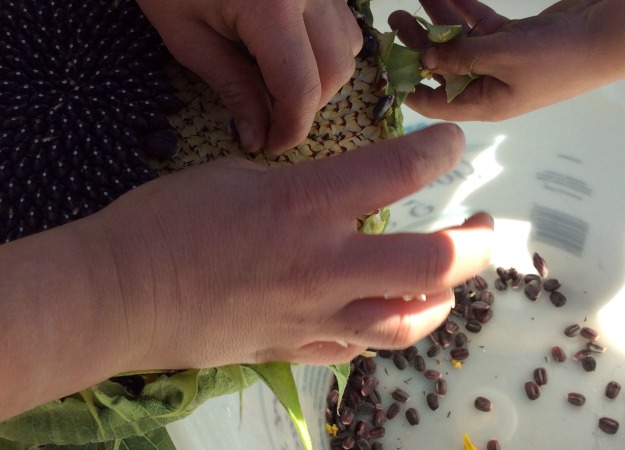 Step #3 Carefully peel the seeds from the bloom into a bucket.





Step #4 Add ½ teaspoon of salt per 1 cup of seeds.

Step #5 Then fill your bucket with water so that your seeds are covered.

Step #6 Soak overnight.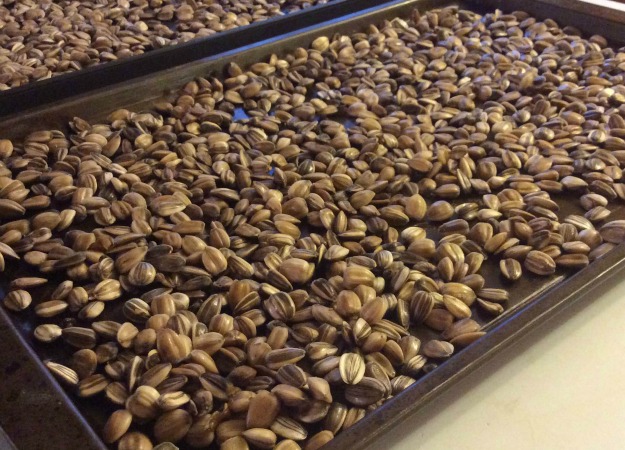 Step #7 Drain then spread the seeds on a greased cookie sheet and put in a proofing oven until crisp. (If you do not have a proofing oven set your oven as low as it will heat.Stir your seeds occasionally. It will take several days for them to dry on the proof setting. Just take them out when you need the oven and put them back in when it has cooled to around 200*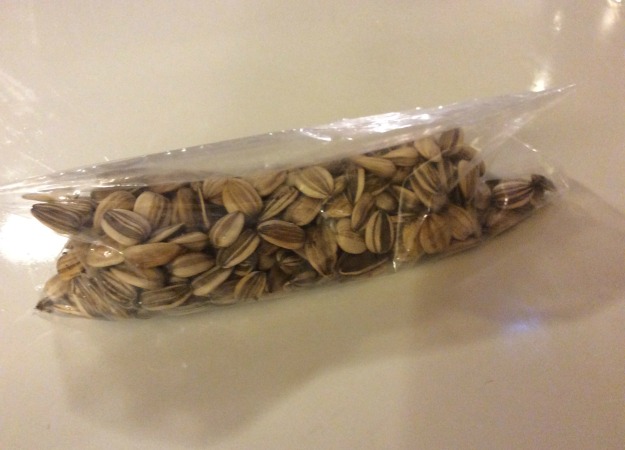 Step #8 Season and enjoy!!



---
Poor Souls Or Thanksgiving Craft
Thanksgiving Decorations:

We include very little "scary" decorations to warn us of the reality of Hell and the need for conversion, but after Halloween we take all our "scary" decorations down and leave out all the pretty fall decorations in colors of brown, yellow, oranges and reds.

The month of November is dedicated to the poor souls in Purgatory. We are to pray for them especially this month. To keep it on the fun side we discovered a craft the whole family will enjoy!

You will need:
Tissue
Mason jar
Glue
Orange, red foam sheet
Wiggle eyes
Orange and brown ribbon
Craft sticks
Markers
1. Using glue adhere tissue squares to the bottom 3/4 of the mason jar. Allow to dry completely.
2. Cut a triangular beak shape out of orange foam and glue to the center of the jar. Then, cut two hill shapes into red foam to create the "waddle" and the eyes of the turkey.
3. Glue wiggle eyes over the red foam piece.
4. Tie strands of orange and brown ribbon around the lid of the jar.
5. Decorate craft sticks and write the name of a poor soul on the top of each one.
6. Place the completed craft sticks in the jar to form the turkey feathers.
Tada!
Place this on your family altar and each member can draw a name each day and pray for the repose of that holy soul.
Alternately, as a Thanksgiving project, each member of the family can write what they are thankful for on their craft sticks.
This idea was derived from the Oriental Trading company and a kit can be purchased on their website.
---
Recipe Of The Month
Every issue will have a seasonal recipe. This recipe comes from the recipe section of Gut and Psychology Syndrome a book by Dr. Natasha Campbell-McBride, MD. It is more of a side dish than a dessert and has a "Thanksgiving-y" taste. Enjoy!
Unusual Peanut Butter Pie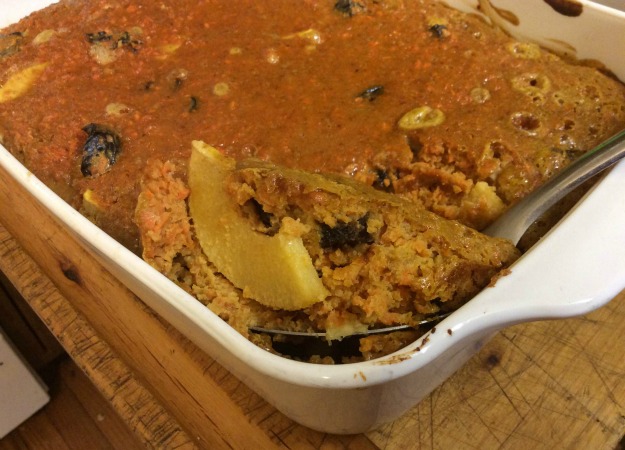 Ingredients:
6 eggs 2 T butter
1 cup peanut butter
2 cups shredded carrots
½ cup of honey
1 cup almond flour
2 large apples
a handful of dried fruit
Peel the apples, cut them into small pieces and place them in a greased baking dish. Sprinkle the dried fruit on top of the apples.
Put the rest of the ingredients in a blender and blend well. Put the mixture on top of the apples. Smooth the top and bake at 325* for 40-50 minutes.
---
Johnny Horton Makes History: A Music Album Review
This is an old album but since we recently purchased it from iTunes, we thought we'd pass along a review.

We purchased this fun and family friendly album because my dad used to sing "1814" to me as a kid and I have passed that fun ditty onto my kids. Papi sings it in such a funny way.

Besides that timeless history song, the album is loaded with other songs about events in United States history. The songs provoke interesting family conversations about war, diplomacy, and the human condition. But better than that, they all are snappy and entertaining!

We highly recommend this family friendly album!
A Happy Result In These Happy Golden Years: A Book Review
Laura's joys are the result of all the hardships she endured from boarding with the Brewsters to teaching unwilling students. In These Happy Golden Years by Laura Ingalls Wilder, Laura's struggles earn her happiness in the end. When she was a teacher twelve miles away from Ma and Pa, the housewife of the house she was boarding in did not like life. Every week the man that Laura would one day marry, Almanzo would come to bring her home.

She liked this so much that her Friday afternoons were spent straining her ears to hear the sound that brought her so much joy: the sound of sleigh bells.

Laura was very good at preparing herself for her wedding. She made sure that all the things needed for her wedding were where they needed to be. There are many times when Laura faced discomfort and ridicule but it all resulted in happiness. Continue reading this review...
---
What's New On The Site…
Things are slowing down on the site as we focus on school but we are still adding things occasionally. Our summer camp page is now up. Check it out here!

What's popular now: Handmade Gifts Tutorials
---
Give Handmade Gifts For Christmas
As we near Christmas our handmade gifts make great presents. Follow our tutorials or contact us and we will make one of our projects especially for you. Check out our store for available products.
---
Help keep us on the web. Donate $25 today and receive an IndustriousFamily.com t-shirt!







Happy Family Fun and may God Bless You!
The Industrious Family
IndustriousFamily.com
---