Hello everyone!

We've been working for months and we are finally reaching completion of our yurt platform. We are happy to provide you with an update!

We've been busy lately but were able to squeeze in a horseback riding party that we are eager to get published for you soon!

Also, the Industrious Family rabbitry boasts a new hutch. We built a 6 cage hutch to house our angoras and soon we will restart our breeding program. Pictures below!

All this and more in this issue of the Gleaner!

Don't forget we love hearing from you--so please feel free to hit reply if you have any questions, comments or just to say howdy!
---

---
Progress On Our Platform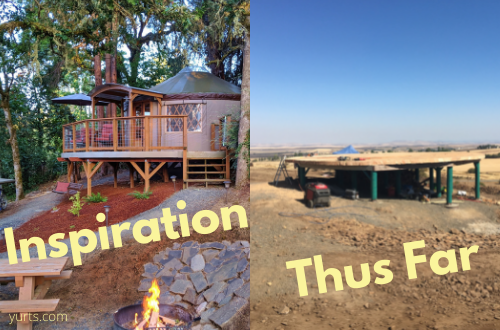 We bought 10 acres and have been camping on our land while we build our platform. We have been at it for three and a half months.

As noted in previous issues the materials we've used are mostly repurposed. 50 gallon barrels partially buried and filled with concrete were used for the foundation. Our posts were purchased from a post and pole company, and the braces were foraged from their junk pile.

The lumber is from a grain elevator that was torn down. The wood was sandwiched on edge and had to be pulled apart board by board. This took us weeks to accomplish.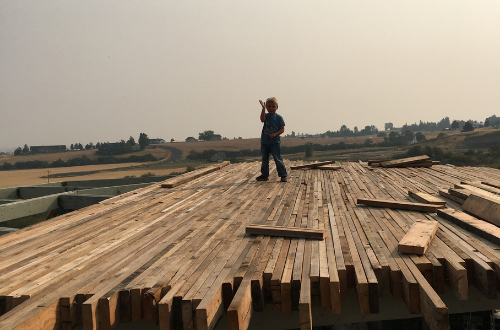 It has been a family affair as we have two young adult daughters and three teenaged sons plus their grandparents and a gaggle of smaller children who have helped us work on it.

We used three reclaimed 2x8s nailed together to make beams to be used as floor joists. We glued and nailed reclaimed 2x6's sandwiched on edge to create our decking which will also be the floor of our yurt.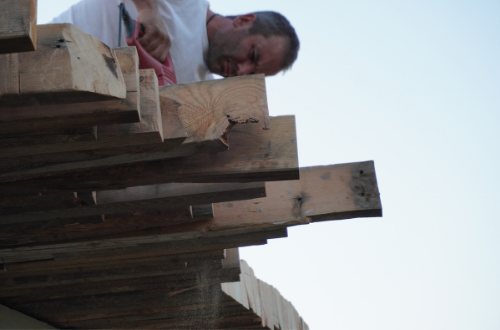 We cut the circle out with a circular saw that had a beam cutter attachment but that wasn't precise enough so we finished with a sawzall.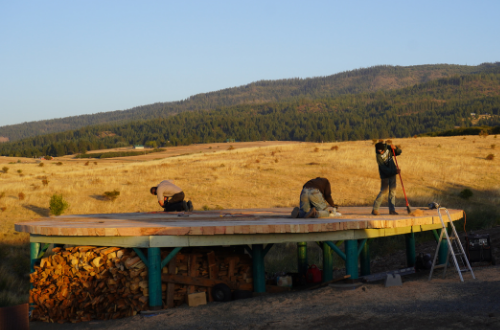 Our 30 foot yurt is terra cotta color and for our exposed platform colors we chose two greens that we thought would work well with our landscape and the terra cotta color of the yurt. The colors are Juniper and Mountain Laurel. It is an oil based semi-transparent paint by Cabot.

Our platform has cost well under $3,000. We plan on using spray foam insulation under the flooring for additional insulation and to seal it completely. We are now planing the wood with a 7 inch planer and will sand and stain it a dark mahogany color soon.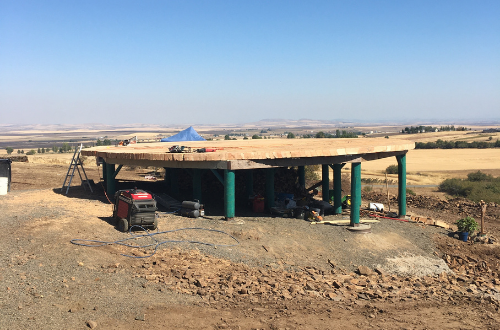 It has taken a long time to build our platform and we have learned a lot through trial and error. Working with reclaimed lumber created its own challenges.

Having very rocky soil at our building site made it extremely difficult to create a precise foundation but we are very near pitching our yurt just in time for cold fall weather. We can't wait to tell you all about the yurt pitching!
---
New Rabbit Hutch!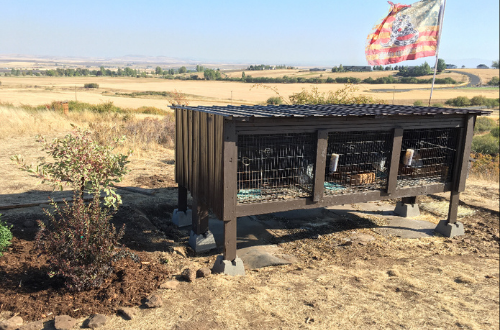 Our cages are extra large dog kennels which give our buns plenty of room for exercise and grooming, This hutch design is basically two shelving units that hold the sets of three cages back to back. A roof and three sides have been provided to keep the bunnies warm and dry.

We used stall mats to make scooping and collecting rabbit manure easy. We also retrofitted nesting boxes on the ends so that we can easily view the mamas and their babies. The other rabbits all have wooden boxes provided which help them maintain their body heat, protecting them from cold updrafts under the cage.

In order to keep them cool in hot weather, we use wet sheets and fans that work as a swamp cooler as well as frozen water bottles for them to cuddle with.

As you can see in the above picture, a little shade will grow up for them as well: a dogwood, boxwood and ninebark complete the landscaping. Not sure if the Don't Tread on Me flag will remain but this hutch is the only permanent structure currently on our property.

You can read more about caring for Angoras here...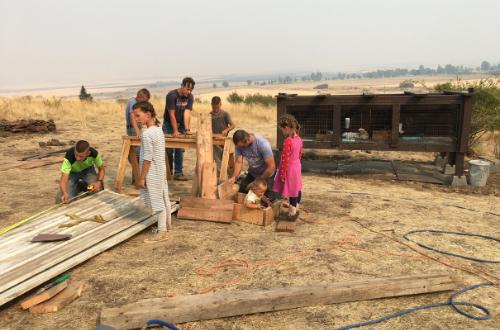 ---

---

Help keep us on the web by spreading word of mouth buzz. Share, follow, like, and forward. We love when you share about us on your favorite social media platform! You can follow us on Gab, Rumble, MeWe, and Parler. Guess what? We're conservatives!


The Industrious Family
IndustriousFamily.com
---
You May Also Like: