"Handmade Wedding Gifts That Come From The Heart"

Handmade wedding gifts are more meaningful than gifts bought from a registry. Create something completely handmade or add a special touch to a gift basket.
Before you begin the project, look at the bride and groom's online wedding registry to get an idea of their style and what colors should be incorporated into your project.
We've compiled a few of the gifts we most enjoy making and giving...
Picnic baskets with embroidered napkins - Picnics are a romantic getaway for the newlyweds. Purchase a quality basket then add some outdoor eating utensils. Handmade cloth napkins that are personalized with the bride and groom's names will add that special touch.
Wheat is a traditional symbol of prosperity and is associated with courting. When courting was commonplace the young man would keep busy making beautiful designs with wheat during his meeting with the young lady. When they were wed, the items he made her were hung in their home.
Wreaths and wheat crafts - Many nature crafts made from wheat or dried flowers and herbs are symbolic of love and marriage.
Rugs -Create table linens and throw rugs in the style and color that will match the bride and groom's taste.

Crocheted baskets in the proper color scheme make lovely handmade wedding gifts as well. Use their bedroom and bathroom colors. Or make a fruit basket in their kitchen color scheme.

Handmade Wedding Gifts:
Embroidered Napkins For A Picnic Basket

Sewing and Embroidering the Napkins

Cut the fabric in a 17 inch square. This allows you to have a 1/2 inch seam allowance. When finished the napkin will be approximately 16 1/2 inches.
 With right side facing down, fold in the edges to a 1/4 inch.
Pin and sew in place.

Repeat step 2, folding over what you just sewed.
Pin and sew this in place.
With a pencil write lightly the name in any desired font.
Double thread your needle with a complimentary embroidery thread. Embroider over the pencil writing.

Tie off end.
Wash the napkin in cold water and a gentle detergent like Woolite.
When dry, iron the napkin for a neat appearance.
Folding the Napkin

Lay the napkin on a flat surface, wrong side facing you and the name nearest to you.
Fold the bottom end up about 7-6 inches, according to your taste.
Flip the napkin over, name down.
Fold in a third.
Flip the napkin over again.
Ta-da! Now insert the flat wear.
Assembling the Picnic Basket

Arrange the items with the napkins front and center.
Items you may want to include:
Plates
Flat wear
Wine glasses
Bottle of wine
Salt and pepper
Blanket
Vase and silk flowers
Add whatever your budget will allow and the basket can hold to make this a very special and functional handmade wedding gift.

Handmade Wedding Gifts:
Heart Shaped Wheat Hanging

1. Soak 26, 18 inch wheat stems with heads, in warm water. You may need the assistance of a rock to make sure the wheat is fully submerged. Soak for 15 minutes or much longer depending on the type of wheat.
2. Towel dry the wheat.
Tip: To make sure the wheat is done soaking, pinch the ends of the stem. If it springs back into place it is ready, if it does not, let it soak a little longer.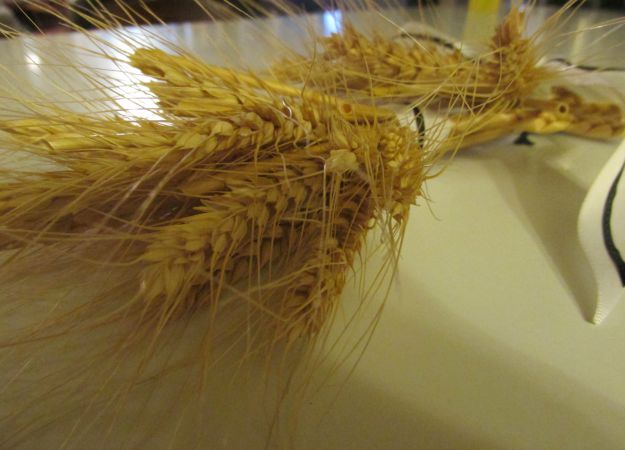 3.Tie three pieces of wheat together.Braid to make two 7-inch braids.
4.With sewing thread, tie a bundle of 15-20 wheat pieces together. Tie them together three inches below the heads.
5.At the end of each 7-inch braid, tie them together.
6.Forming a heart, tie the other end of the braid together.
7.Tie three more pieces of wheat together. Braid to make one 4-inch braid.
You will feel proud when you see this handmade wedding gift hanging in the kitchen of these newly weds.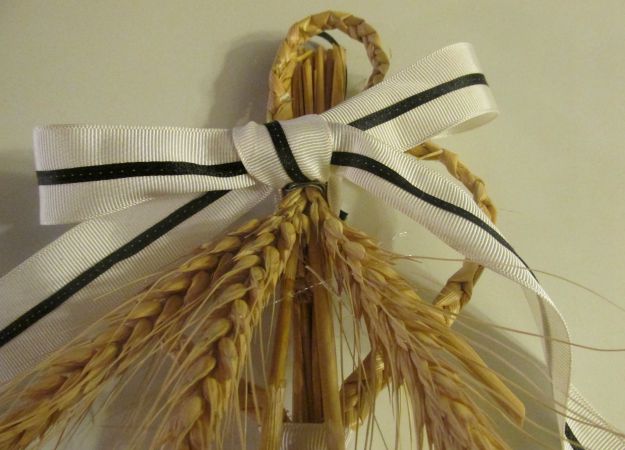 8. Tie both ends of the 4-inch braid together, forming a tear-drop.
9. Tie the tear-drop braid to the top of the heart braid. Use ribbon to tie them together.

10. Tie the heart to the bundle you created in step 4.

11. Fan out the wheat heads at the bottom and below the tear-drop.

12. Tie a bow with ribbon under the heart.
Handmade Wedding Gifts: Crocheted Basket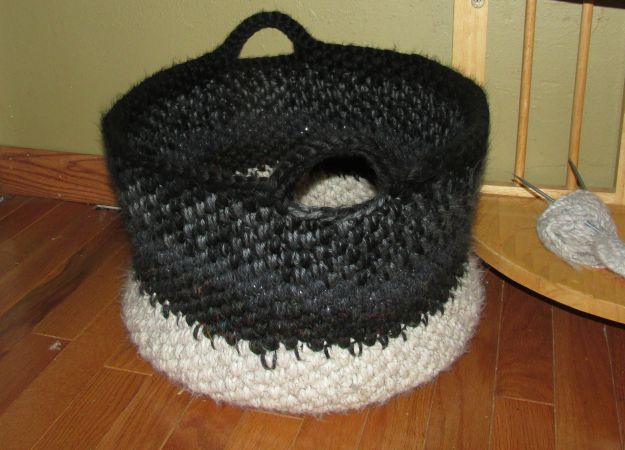 This basket is perfect for a wedding gift as it can store numerous things-anything from crafts to electronics. It makes a stylish organizer for the newly weds!
We found this color block crochet basket at www.1dogwoof.com.
We only made a few alterations.
Instead of 4-5 balls of yarn we used 10 to make a fuller basket.
We changed into fuller color sooner than the directions said to.
We also added handles for easy carrying!
By the time all the alterations were made the pattern had been changed quite a bit.
Be sure when making this basket to work double yarn. We used thick woolen yarn. Visit the link to 1dogwoof.com follow her pattern, then come back here and finish with our handles instructions.

To make the handles on your basket you need to follow these three easy steps.
Chain ten.

Single crochet in seventh single crochet from hook. Continue crocheting in the way described in row 11.

In next round just single crochet over the chain.

The basket is done when it reaches the desired height. Fasten off. Weave in ends.
---
Use one of these ideas or come up with your own. We hope this page has inspired you to add a touch of something handmade to your wedding gift giving. Handmade wedding gifts really are fun to give and to receive.

If you know of some great handmade wedding gifts, please share them with us!

Thanks for stopping by,
-DaMama

Your Handmade Wedding Gift Projects
Have you created a wedding gift that was a hit? Share it!

Don't forget to tell us the steps and the materials you used.
---
Home

›
Handmade Gifts
› Wedding Gifts
---
---

Subscribe To The Industrious Family Gleaner!

We Respect Your Privacy.